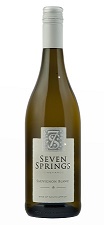 International Wine & Spirits Competition 2017 – SILVER
Tasting Notes

This vintage is packed with a flavour-filled and aromatic punch. Concentrated yet a medium body, soft acidity and a clean, refreshing palate interlaced with flavours of green apple, kiwi and grapefruit. The bouquet has floral notes of elderflower and aromas of gooseberry, litchi and grapefruit. Slight hints of green pepper and fig.
I would definitely recommend decanting this wine before drinking as it will aid in opening up the wine and releasing the myriad of aromas and flavours. Serving temperature of 10°C and a recommended pairing would be aromatic foods. It does really well with Thai curry, seafood that has a tomato based sauce – I know not typical foods you would think of pairing with a Sauvignon blanc, but this isn't a normal Sauvignon blanc. Often a Sauvignon is seen as a cheap and quaffable wine, but we aim to make wines of flavor, texture and wines that can stand on its own but even better with food, a wine made for a night out in the restaurant with you and good company.
Technical Analysis
Alcohol: 13.44%     Residual Sugar: 1.7 g/l     Total Acidity: 6.4 g/l     pH: 3.30 Production: 7,020 bottles (750ml)
Harvested: By hand 11 February 2015    Bottled: 15th September 2015  Ageing potential: 5-7 years
Harvest Report
This is the vintage we've been waiting for. In the Overberg, especially the Hermanus area, 2015 was a superb year for all varietals. Across South Africa it was equally great, but more for white varietals. This is the vintage you want to stock your wine cellar with. The 2015 season was preceded by an exceptionally wet year in 2014, making it seem like dry year, when instead it was just right. All the climatic conditions aligned, ample rain in spring, cool January and a temperate and dry summer, with the odd heat flash, as we are seeing on a more regular basis now, thanks to climate change.