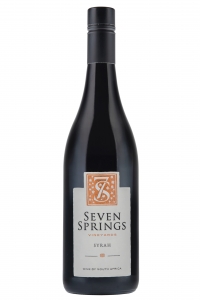 Tasting Notes
This Syrah offers a deep, scarlet-plum colour with real depth and clarity. Slight hints of black-current and cedar-wood are noticed on the nose, which follows through to the palate of violets and white pepper. The tannins are firm but balanced by the body of the wine. A structured and chewy wine with length that will only improve over the next 5 years or more! 
Cooler climate Syrah like this is not as robust and heavy as your typical South African Shiraz. Certainly a structured wine that will benefit from being paired with some juicy, flame-grilled meat or a stew. This wine will also go really well with some pongy cheese or even a curry. More elegant than your typical Shiraz but well-structured and long on the finish. 
Technical Analysis
Alcohol: 14.%    Residual Sugar: 2.5g/l   Total Acidity: 5.7g/l     pH: 3.45
Bottled: 15th March 2019  Ageing potential: 8-10 years
Production: 8,070 bottles (750ml)
Harvest Report and Vinification
The grapes were picked on the 1st March, late in the afternoon, with the first selection of bunches being conducted in the vineyards (any unripe, rotten or bird-damaged bunches were cut and dropped on the floor). Once the 20kg picking cases reached the cellar (1km away) they were loaded directly into the cooling room and brought down to about 12⁰C. The grapes were then sent along a sorting table, to remove anything that may have been missed by the vineyard pickers.  
From the sorting table the majority of bunches were put through a de-stemmer and the remaining berries were sent directly to the stainless-steel fermenting tanks with the cooling on full blast! About 1/3 of the harvested bunches were left on their stems which contributes to a lift in the fruit of the mid-palate, while helping to fix the colour and provide additional structure.  After three days of cold-maceration, the cooling was switched off and a natural fermentation kicked in as the juice warmed up. Once underway, the fermentation was inoculated to ensure a smooth and continuous process, which took just over three weeks from start to finish. Regular pump-overs were conducted about twice a day (just to keep the yeast cells happy) and once the wine was fermented, the tank was emptied of free-run where-after the remaining skins were sent to the press. All the wine ended up in older French oak barrels and stayed there for 15 months maturation. A barrel selection was then conducted to make up the components of this wine. Any barrels not making the grade were sold as bulk.