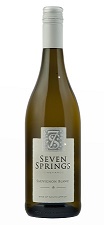 Tasting Notes
This wine has a beautiful bouquet of green apple, peach and tropical fruits with a complex and concentrated palate. There is an element of minerality balanced with elegant acidity. The flavours of pear, white peach and grapefruit that linger on the tongue will have you coming back for more. Serving temperature of 10-12°C/50°F. Seven Springs Sauvignon Blanc can be enjoyed on its own but is even better with food. Our recommended pairing is with aromatic foods such as Thai curry, seafood with a tomato based sauce.
Technical Analysis
Alcohol: 13.13%     Residual Sugar: 1.8 g/l     Total Acidity: 6.1 g/l     pH: 3.21 Production: 6,600 bottles (750ml)
Harvested: By hand 18th & 19th February 2016    Bottled: 21st September 2016  Ageing potential: 5-7 years
Harvest Report
2016 was an altogether tougher vintage, early ripening varieties and mid-season varieties ripened at  the same time, which meant that the season was compressed into a relatively short period of time. Our first grapes were picked on the 26th of January and the last were harvested on 4th of March. With the increasing threat of drought and higher incidence of very hot sunshine South African yields are decreasing, a trend which is likely to continue. Luckily for Seven Springs we have fresh water springs in the mountains above our vineyards, but we still endured the incredibly hot days during the ripening season.
All our handpicked grapes undergo a first sorting in the vineyard, spoiled fruit is left behind while the quality grapes are placed in small crates for the very short trip to the winery. Once there, the bunches are inspected again to make certain that only the very best quality fruit is passed for processing. We utlilise dry ice and CO2 gas to protect the grapes and juice from the effects of exposure to Oxygen, (processing reductively).  After alcoholic fermentation in stainless steel tanks the wine is left on the lees for 3-4 months and with a further 2-3 years bottle age the wine has a subtle, textured, yet complex palate with soft acidity.