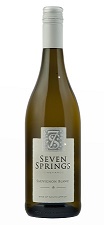 Tasting Notes

This vintage is not one to shy away from, it packs a flavour-filled and aromatic punch. Concentrated with medium body, soft acidity and a clean, refreshing palate interlaced with flavours of green apple, kiwi and grapefruit. The bouquet has floral notes of elder flower and aromas of gooseberry, litchi and grapefruit. Only slight hints of green pepper and fig. Decanting this wine before drinking will aid in opening up the wine and releasing the myriad of aromas and flavours.  
Serving temperature of 10°C and a recommended pairing would be aromatic foods. It does really well with Thai curry, seafood that has a tomato based sauce – I know not typical foods you would think of pairing with a Sauvignon Blanc, but this isn't a normal Sauvignon Blanc. Often a Sauvignon is seen as a cheap and "quaffable" wine, but we aim to make wines of flavour, texture and wines that can stand on their own but are even better with food, a wine made for a night out in the restaurant with good friends. 
Technical Analysis
Alcohol: 13.14%     Residual Sugar: 1.8 g/l     Total Acidity: 6.4 g/l     pH: 3.27 Production: 6,400 bottles (750ml)
Harvested: By hand 27th February 2018    Bottled: 19th July 2018  Ageing potential: 5-7 years
Harvest Report
Following three years of drought, the vines had a tough year resulting in smaller yields. Not only did it remain windy from October through to January, there was very little rain during the growing season so we had to irrigate twice; once after berry-set (mid October) and then again after veraison (end of December). Canopies were also left denser in order to maximise photosynthesis and to protect the smaller bunches from direct sunlight. Berry skins were generally thicker with less pulp ratio resulting in more structured wines and reduced volumes.