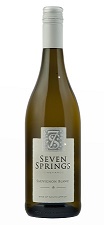 Tasting Notes
Beautiful, floral notes of Elderflower on the nose and palate, accompanied by a broad, mid-palate that saunters off in to a fresh, clean and vibrant finish. Slight hints of asparagus and mown grass. An elegant wine with good structure and a lean, crisp, mouth-watering departure. More of a European, cooler-climate style Sauvignon Blanc.
This wine will pair easily with all sea-food dishes, crudité's and cuts through rich pate's like a hot knife through butter. Truly refreshing, this wine can even drunk unaccompanied, as a medium-bodied aperitif. 
Technical Analysis
Alcohol: 13.5% Residual Sugar: 1.09 g/l Total Acidity: 7.9 g/l pH: 3.09 Production: 3,000 bottles (750ml)
Harvested: By hand 19th February 2019 Ageing potential: 5-7 years
Harvest Report
The 2019 wine-making campaign resulted in excellent quality grapes being delivered to the cellar, but not all was plain-sailing!
The harvest started slightly later than the previous vintage, though finished earlier! As a result, many of the different cultivars ripened at around the same time, meaning that processing everything within a shorter period of time, was quite challenging. Following 3 years of drought conditions in The Western Cape, the 2018/19 growing season saw rainfall return to average levels, with a cool, wet spring, followed by a windy, warm summer though no real heat-waves to speak of. Budding and flowering were a little uneven across the board, which resulted in quite a bit of crop-dropping around Christmas time, during Veraison (when the grapes change colour from green to yellow or red – depending on the varietal). Summer evening temperatures remained much cooler than during the day, so ripening became more even and gradual, resulting in really well-balanced grapes (sugar ripeness Vs phenolic ripeness of the skins).
Harvesting
The grapes were picked on the 19th February, during the early part of the morning, with the first selection of bunches being conducted in the vineyards (any unripe, rotten or bird-damaged bunches were cut and dropped on the floor). Once the 20kg picking cases reached the cellar (1km away) they were loaded directly into the cooling room and brought down to about 12⁰C. Once this temperature was achieved, the grapes were sent along a sorting table, to remove anything that may have been missed by the vineyard pickers.
Vinification
From here, the grapes were crushed and sent directly into the press where they had just short of an hours' skin-contact. From here, the juice was separated from the skins and sent to a settling tank. The following day, the clear juice was racked from the gross-lees into another stainless-steel tank, where the juice was allowed to warm up slowly and a few days later, a spontaneous fermentation kicked in. Fermentation took about 16 days to be completed with the wine being inoculated with yeast during the final third of the process.